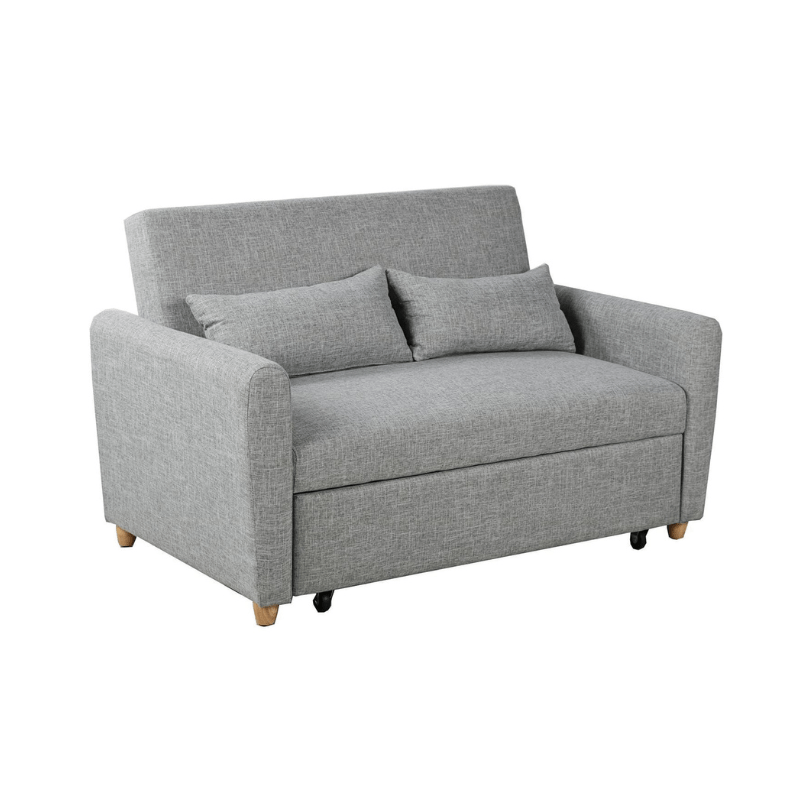 Polly Pull-out Sofa Bed
Quick Overview
Elise sofa bed can be used as a formal sofa and sofa bed. Modern and stylish!
Description
Unlock the full potential of your living space with our versatile pull-out sofa bed. Its unassuming, minimalist design may appear simple, but it offers much more than meets the eye. This multi-functional marvel serves as both a comfortable 2-seat sofa and a spacious bed, making it the ideal solution for smaller homes where optimizing space is crucial.
Not just practical, our sofa bed also excels in comfort. The fabric's unique texture provides a soft and cozy feel, inviting you to relax and unwind. Its sophisticated grey color adds a touch of elegance to any room, effortlessly complementing various interior styles.
PRODUCTS SPECIFICATIONS
Product Type: Sofa bed
Product Width (cm): 140 (Overall), 117 (Inner)
Product Depth (cm): 87 (Seat), 186 (Flat as a bed)
Product Height (cm): 44 (Seat), 60 (Arm), 87 (Back)
Materials: Premium Fabric
Finishing: Luxurious Texture
Colour: Chic Grey
Assembly Required: Yes
Experience the perfect blend of style, functionality, and comfort with our pull-out sofa bed. Upgrade your living space and make it a cozy haven for both relaxation and entertainment.
Please note that images are for illustration purposes. Visit our store for the actual product.
Different Combinations to Select From: At Home Planet NZ, we understand that everyone's needs are different. That's why we offer a range of options for our Merlin recliner products. Whether you're looking for a complete recliner suite or just a single recliner chair, we have everything you need to create the perfect living room or home theatre. Our extensive range of recliners includes fabric recliner sofas, fabric recliner chairs, and fabric recliner lounges, ensuring you find the perfect match for your living space.
Buy Now Pay Later options available.
So why not visit our Home Planet NZ furniture stores to see for yourself? We guarantee that you'll find the perfect recliner for your needs. With our range of high-quality and affordable recliners, you can create the ultimate living room or home theatre experience.